I was going to write only about the
Charmed Comic Books
, but then I just couldn't not expand this entry and add my thoughts on this great TV show
Charmed
.
We all like
Charmed
, others more and others less. If you haven't heard about Charmed, then you should start watching season 1! Personally, I adore Charmed and it is my favorite TV show, although it has finished since 2006.
I grew up watching the three Charmed One's, Prue, Piper and Phoebe Halliwell dealing with the fact that they were witches and trying to handle and adjust to their new powers and to their new magical world. I watched them kicking demon-ass, falling in and out of love, even die and lose their sister and loved one's. Then reconstituting the Power of three with Paige Matthews, their long lost half sister. I have done some serious loling with Charmed, but also crying at times. I have been disappointed, like when Cole Turner was vanquished and Prue Halliwell was killed, but I did not stop loving Charmed. Shannen Doherty, Holly Marie Combs, Alyssa Milano and Rose McGowan were the one's who made me love Charmed and never miss an episode. The strong feelings they enhanced their characters with, their talent along with their beauty, was the perfect recipe to make Charmed irresistible to the viewers and have us craving for more.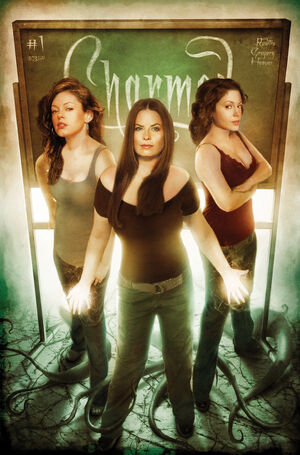 Now after four years the Charmed One's are back thanks to Zenescope! I am sure we would all prefer a movie or something, but Charmed returns on comic book form, which is still cool. The news were announced on December 19th. The writers of the Charmed Comic Books are Paul Ruditis, who has written a total of three charmed novels, along with Raven Gregory. The first issue is being released on the Comic Con International in San Diego this July. It has been confirmed that the fans are getting their own Book of Shadows along with the Comic Books. There are going to be 12 issues and I hope we get more, if they draw big response.